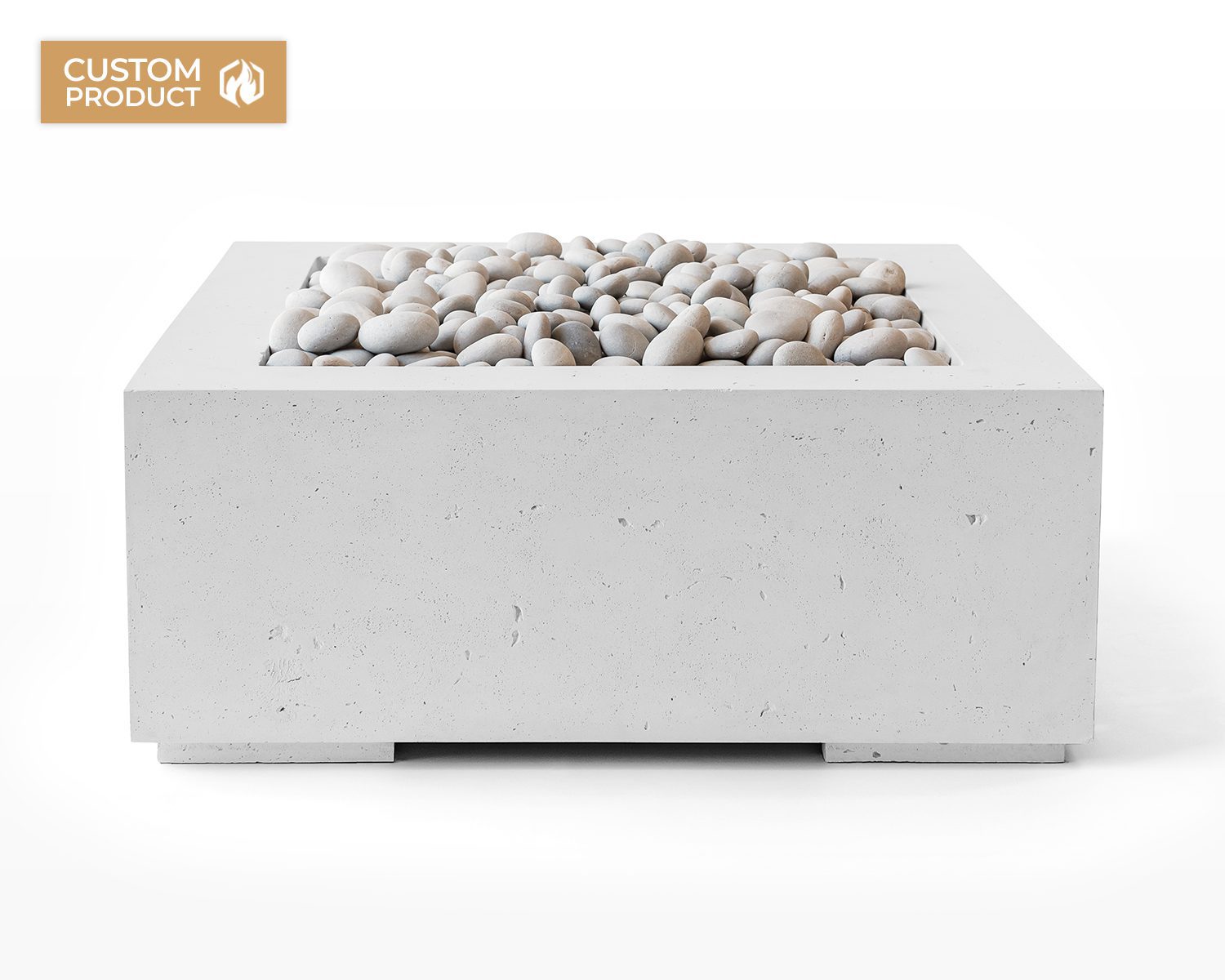 Everything You Need to Know About Fire Pits
Fire pits are a great way to bring warmth and ambiance to your outdoor space. Whether you're looking for an intimate gathering spot or a lively backyard party, having the right fire pit can make all the difference. But with so many types of fire pits on the market, it can be hard to know which one is best for you and your home. This guide will provide helpful tips on how to choose the perfect fire pit for your outdoor needs. From deciding what size and shape fits best in your yard, to selecting materials that are both beautiful and durable – we'll cover everything you need to know about choosing the right fire pit for your home!
Fire Pits By Fuel Types
Fire pits come in a variety of fuel types, from gas to wood-burning. Each type has its own unique benefits and drawbacks, so it's important to understand the differences between them before choosing one for your home.
Wood Fire Pits
When it comes to selecting the ideal fire pit for your home, wood fire pits are a traditional option. They offer a warm, cozy atmosphere that other fuel sources cannot match. Family and friends can come together around a wood-burning fire pit for a night of storytelling and s'mores-making. Make sure the wood fire pit you choose is made of sturdy materials like stainless steel, cast iron, or wrought iron when making your choice. Weatherproof fire pits are made to withstand heat and corrosion, making them perfect for outdoor use. Although they require more upkeep than metal models, fire pits made of stone or concrete can also be used outdoors.
Size is another factor to take into account; options for wood burning fire pits range from 10-inch tabletop models to larger full-sized models that can seat up to 8 people. The size you select should be based on your needs and available outdoor space. 
Last but not least, it's critical to check your fire pit's ventilation when using it. Proper airflow helps keep smoke away from your guests and avoids smoke poisoning in enclosed spaces. Fire screens are also useful for keeping sparks in place and keeping people from getting burned by embers that fly out of the fire. 
Gas Fire Pits
Because they offer a simple and practical way to enjoy a fire without the hassle of dealing with wood, gas fire pits are a popular choice for outdoor fire pits. They are available in a range of designs, from conventional fire pits to modern and contemporary ones.
Unlike their wood-burning counterparts, gas fire pits can have their heat output adjusted with greater precision because they run on liquid propane or natural gas. This makes them excellent for smaller gatherings where there is less need for heat. Because you won't need to tend the fire as often, you'll have more freedom to do other things while hosting a gathering.
Gas fire pits are easier to maintain than their wood-burning counterparts because you don't have to worry about keeping a constant supply of logs on hand or tending to the fire. They are also preferable for those who don't want to deal with the stench and mess that come from burning wood because they produce significantly less smoke.
Many modern gas fire pits come with flame control knobs that let you easily modify the amount of heat generated by your fire pit, which is convenient for customizing the amount of warmth generated on colder nights.
Other Fire Pits
Some innovative companies have eschewed conventional fuels like wood and gas in favor of more novel alternatives. The Blaze pellet fire pit, for instance, generates a great deal of heat by burning compressed wood heating (not "eating!") pellets, keeping you toasty and comfortable even when the temperature outside drops. What's the point of using pellets for heating? A Blaze fire pit and a 20-pound bag of heating pellets will keep you warm for about 8 hours, and they burn hotter and longer than regular wood.
Fire Pit Styles
As we discussed earlier, outdoor fire pits come in a wide range of designs. Today's market is dominated by five main types. The variety of outdoor ornaments available is astounding, and many of them are not only beautiful but also practical. Find out which style (or styles) will work best in your backyard by reading on.
Fire Pits
While fire pits can be found in a wide variety of sizes and shapes, the standard outdoor fire pit is square or rectangular. Models with legs and built-in storage are quite common in this style, which also features a wide range of materials and power sources. The classic style of these fire pits makes them a great fit for rustic or conventionally decorated rooms.
Fire Bowls
Fire bowls are a great option for outdoor fire pits, especially when square footage is at a premium. Fire bowls are a great way to add ambiance to your backyard, but they are much smaller than fire pits. Fire bowls are great for creating a warm and inviting atmosphere because they allow you to see the fire from all angles.
These fire bowls can be found in a wide variety of sizes, with some even including a table or stand. Portable versions of fire bowls allow for easy relocation to different locations in the backyard to accommodate larger groups. 
Fire bowls are a versatile addition to any outdoor space, working well with rustic cabins or sleek contemporary patios. Most fire bowls are made from metals like copper or stainless steel, which makes them weatherproof and suitable for use as outdoor fire pits.
With these factors in mind, you'll be able to pick out the Fire Pit that will look best in your backyard and help you host parties that everyone will remember for a long time to come.
Tabletop Fire Pits
Those who want a fire pit but lack the space or materials for a full-sized one will find that a tabletop fire pit is the ideal solution. These fire pits are great for people on the go because they are simple to assemble or even require no assembly at all.
Also, you can find a tabletop fire pit that is the right size and shape for your home because there are so many to choose from. They are usually constructed from metals like copper or stainless steel, making them long-lasting and resistant to the elements.
These fire pits are functional and aesthetically pleasing, adding a touch of romance to any outdoor setting or serving as a focal point for smaller gatherings. Very little in the way of cleaning or upkeep is required of tabletop fire pits, making them exceptionally low-maintenance.
Fire Pit Tables
If you want to make your outdoor area look more elegant and luxurious, a fire pit table is a great option. Having a fire pit table to gather around while enjoying the warmth and light it emits is a great way to bring people together. You can find fire pit tables in every imaginable size and style, from the classic look of wood to the sleek simplicity of contemporary metal and glass models.
These fire pits are a wonderful way to keep warm and brighten up the night, while also entertaining friends and family. Most fire pit tables are made from metals like copper or stainless steel, making them resistant to corrosion and rust. Fire pit tables with covers are a safe option for families with young children or those who live in windy areas.
Fire Pit Grills
Incorporating a fire pit grill into your outdoor kitchen or entertaining area is a great way to improve both the aesthetics and functionality of your space. A fire pit grill combines the two popular outdoor cooking options, the fire pit and the grill. Grills for use in conjunction with fire pits come in a wide variety of shapes, sizes, and designs, making it easy to find one that is ideal for your needs. To withstand the elements, fire grills are typically made of cast iron or stainless steel.
Because they can help keep sparks and embers contained, fire pit grills are a good option for households with young children or those who live in windy areas. Fire pit grills are great for gatherings because they allow guests to socialize while preparing and enjoying scrumptious meals.
Fire Pit Materials
Steel
Stained steel is the most common variety, but there are many others to choose from, and they span a wide price and quality spectrum. Unlike steel that hasn't been coated in a protective powder, unprotected steel rusts over time.
Stainless Steel 
Although it may be more expensive than some alternatives, stainless steel stands up well to rust, the elements, and high temperatures. As a bonus, this lightweight metal will stay in great shape for many years with very little care.
Granite
Granite Fire Pits are a luxurious and elegant choice for any outdoor space. This beautiful material is extremely durable and resistant to weather, heat, and other elements, making it a great option if you're looking for something that will stand up to the test of time. It's strong enough to support heavy fire pits or seating areas but still easy to move when needed.
Aluminum
Aluminum's many positive qualities make it a great choice for use in exterior settings. It requires little in the way of upkeep, is remarkably lightweight, and, perhaps most importantly, will never rust, no matter how harsh the weather gets.
Cast Aluminum
Cast aluminum, the best material for outdoorsmen, is resistant to rust and can be used year-round. Although it's not as light as aluminum, it's still manageable.
Copper
Copper ranks highly among the best materials because it is long-lasting and resistant to rust. Its glossy exterior will naturally patina to a classic green over time, but surface treatments can preserve the original color.
Faux Stone & Concrete
This material has a significant weight to it but is long-lasting and resistant to the elements. By applying stone and bricks in a masonry fashion to a solid steel frame and a mesh body, these structures are made to be extremely robust.
Polyresin
This sturdy material provides durability and mimics the appearance of natural stone, but it is lighter and less expensive than faux stone. Polyresin satisfies a variety of budget-conscious construction requirements. 
GFRC
GFRC, which is both lightweight and strong, has the same strength as concrete but only weighs a fraction of it.
Fire Pit Shape
Square
Those who want to give their outdoor living space a more contemporary look will find that square fire pits are an excellent option to consider. Square fire pits are sure to stand out in any outdoor setting thanks to their clean, geometric lines and form.
Round
People who want to generate a cozy and welcoming atmosphere in their outdoor living space will find that round fire pits are the best option to go with. A fire pit in the shape of a circle is an excellent choice for social gatherings, as it offers sufficient seating for everyone in attendance.
Rectangular
People who want to maximize the use of their outdoor space in an original way will find that rectangular fire pits are an excellent option. Rectangular fire pits are ideal for larger gatherings because they offer a large number of seating options while taking up a comparatively small amount of floor space overall.
Oval
Oval fire pits are a great choice for those looking to create an elegant and timeless look in their outdoor living space. Oval-shaped fire pits create a more laid-back environment, making them an excellent choice for hosting parties and gatherings with a large number of guests.