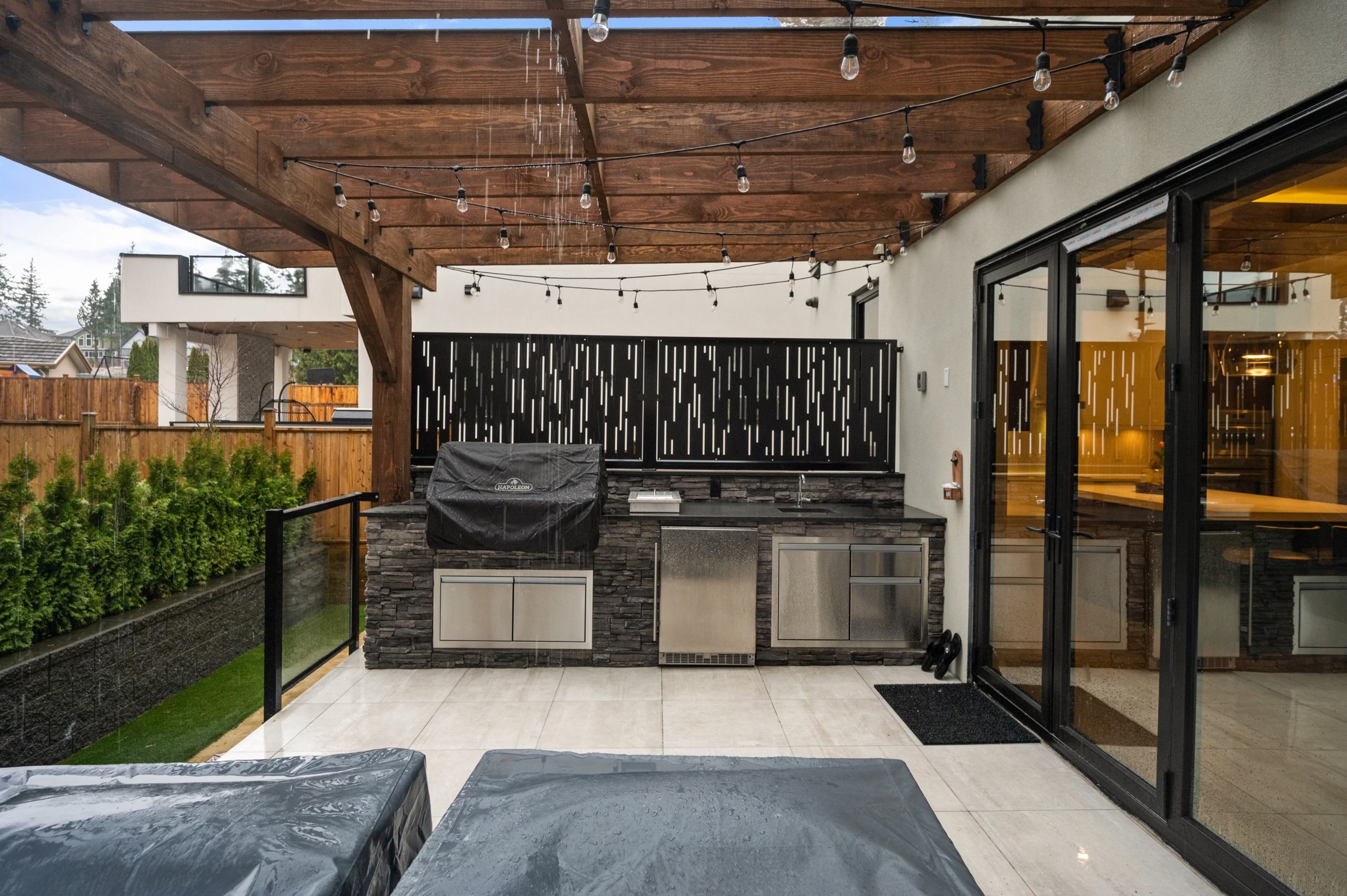 Outdoor Kitchen Planning Guide
An outdoor kitchen is a great way to entertain guests, enjoy the fresh air, and expand your living space. However, before you begin building, there are a few things you should remember as you plan the outdoor kitchen of your dreams. In this guide, you'll find the information you need to create an outdoor kitchen that meets your needs in every way, from the selection of building materials to the installation of appliances and accessories. Let's get started!
Types of Outdoor Kitchens
An outdoor kitchen could consist of nothing more than a cabinet to store cooking utensils, or it could have a full barbecue, fridge, sink, and even a table for eating. In any case, your yard will have a new, comfortable "chamber" to host gatherings in. The three kinds are listed below for your consideration:
Movable
Modular outdoor kitchens give you the freedom to update the look of your space whenever you like. These types of kitchen setups are convenient for people who are in a pinch or who want the option of using their outdoor kitchen in different locations. Most mobile kitchens have one or two rolling cooking areas, such as a grill, a space for prepping food with foldable countertops, or a rolling cart.
Prefab
Prefab outdoor kitchens are prefabricated, standalone structures that are ready for installation. For those who want a quick and simple installation process with little construction needed, this type of kitchen is fantastic. Prefabricated outdoor kitchens are available in a variety of shapes and sizes, allowing homeowners to customize them to meet their needs. Prefab kitchens have the drawback of being less adaptable than other types, though.
Custom
The most flexibility and creative freedom in terms of design and materials are available with custom outdoor kitchens. You can design your kitchen precisely and have it built to your specifications by working with a contractor. This choice is ideal for those who desire total control over their project and a distinctive appearance. Although building a custom outdoor kitchen is typically more expensive and time-consuming, you can be sure that the result will be a stunning, one-of-a-kind kitchen that is perfect for your backyard.
Things to Consider Before You Begin
Do you need a permit?
It can be enjoyable and rewarding to design an outdoor kitchen. However, it's crucial to be aware of any local laws or regulations that might apply to your project before you begin. Your outdoor kitchen might need a permit, depending on where you live.
A permit is typically required in order to make changes to your property, such as adding an outdoor kitchen or altering the way it was constructed. Before you start building, it's crucial to check with your local government to make sure you are in compliance with all applicable laws and regulations.
Power Requirements
Typically, the outdoor kitchen is connected to the house by electricity, water, and natural gas lines. The plans for the kitchen and dining area should include electrical outlets so that the lights and refrigerator can be powered. 
For rules regarding burying gas lines and only electric cables in designated areas, consult local codes. While some areas only require that the two be separated, many require that they be buried in separate trenches. Inquire about the requirements from your building inspector.
Safety Concerns
Here's how to make sure your new cooking center won't put you or your house in danger:
Keep the grill at least ten feet from any flammable material, such as a house's siding, deck railings, or tree limbs, and build a place to keep a fire extinguisher into your plans. 

Check for gas leaks in the pipe. It is recommended that dish soap and water be mixed in a ratio of 1:2. Use a paintbrush to paint the solution onto the connectors and hose ends. Just turn on the gas without lighting the grill. A leak exists if you notice bubbles forming. If the problem persists after tightening the connections, a new hose and connections should be installed.

In terms of electricity, ground fault circuit interrupter (GFCI) outlets are mandated, and it's recommended to dedicate a separate circuit specifically for the kitchen, which can be accessed from the main electrical panel. Underwriters Laboratories (UL) outdoor-rated extension cords, fans, and lights are your best bet against the harmful effects of UV rays and freezing temperatures.
Building an Outdoor Kitchen Step By Step
1) Select an outdoor kitchen style
The kitchen design you pick should reflect your personality and fit all of the appliances you plan to install. Typical designs include the following:
Traditional
Brick and stone laid in mortar are traditional for a foundation. Choose a material and style, like this running-bond brick pattern, that echoes your home's foundation walls or chimney to help it blend in.
Contemporary
Clean, modern lines and shiny materials like granite and stainless steel define this style. Here, horizontal bands of ipe boards give the kitchen depth while also helping it blend in with its natural surroundings.
Rustic
A weathered appearance is achieved through the use of texture and matte finishes. Here, the built-in base's stucco was colored to evoke terra cotta and coordinate with the earthy tones of the stone countertop. The earth tones match the natural scenery.
2) Choose the outdoor kitchen location near your house
An outdoor kitchen attached to the side of the house is a great spot for entertaining guests. As the house itself offers some protection for the appliances, trenches are not required for the gas and electricity lines. If you don't have a lot of room in the backyard, maybe the only place you can put a permanent kitchen is in a wide open area along one of your home's walls.
Consider these three benefits of situating your outdoor kitchen close to your house:
Convenience: No more lugging groceries across the grass! Ideally, it would be within fifteen to twenty feet of the kitchen inside. Keep your guests comfortable by making sure they aren't sitting directly in the path of the setting sun.
Budget: It's cost efficient to keep utilities closer to the house. Alternatively, if there is already a deck or patio near the back door, you can use that instead and save money on paving.
Protection: Your home's four walls can serve as a shelter, and they do so without costing too much. If you're going to be grilling under an overhang, move it as close to the edge of the roof as possible to prevent creating a smokehouse.
3) Decide where you want the cooking area to be
Along one wall
Creating a cooking area along one wall is an efficient and cost-effective way to make the best use of outdoor space. This type of setup is ideal for narrow yards or spaces that are limited in size, as it allows for the placement of several essential items close to each other without taking up too much room. 
L-shaped
An L-shaped outdoor kitchen offers plenty of room for food preparation, cooking, and entertaining. By arranging the cooking area at an angle, you have more room to work with and can make the most of your space.
In this style, you can make the kitchen area bigger by putting shelves or counters along the walls. Adding a wind break like an overhanging roof or awning can help make the area more comfortable during periods of high winds and sun exposure.
U-shaped
A U-shaped outdoor kitchen is the most convenient and makes the best use of space when there is a lot of it. This style is easy to use and has a lot of space for preparing food, cooking, and having people over. With this setup, you can make the most of your counter space and create a bigger, easier-to-navigate workspace.
Island
An island outdoor kitchen is a great way to bring the comforts of indoor cooking outdoors and would make a great addition to any backyard. An island style kitchen utilizes all your available space, offering plenty of room for food preparation, cooking, and entertaining. With this layout, you can put most of your appliances in one easy-to-reach spot and create a very functional work space as a result. 
4) Pick the building materials
Material options for a built-in base
Cultured stone veneer: It is a lightweight and easy-to-cut alternative to natural stone that can be mortared to a wood, concrete block, or precast concrete frame to create the look of natural stone at a fraction of the cost.
Brick: Price-friendly and low-maintenance. It needs a lot of planning ahead of time, and you might have to adjust the size of some of the bricks. On the other hand, if you know the fundamentals of masonry, it's a fun weekend project.
Stucco: It is a durable and fireproof coating that can be troweled onto a wooden, concrete-block, or precast-concrete frame.
Material options for cabinetry
Stainless steel:  Stainless steel is perfect for a barbecue because it is long lasting, resistant to corrosion, and visually complements the appliance.
Marine-grade polymer: It has the feel of painted wood, but is resistant to rot and easy to clean.
Teak: You can't go wrong with the timeless appeal of teak. A clear sealant should be applied once a year to keep it looking good.
Material options for countertops
Granite: It can withstand the elements, is less likely to become discolored by the sun, and is more difficult to stain than marble, soapstone, or slate.
Concrete: Concrete counters are sleek and modern, but they can easily crack if not installed correctly. It requires resealing once a year. 
Outdoor-rated ceramic tile: 
Budget-friendly, suitable for do-it-yourselfers, and available in a variety of attractive hues and designs. It is ideal in climates where the grout won't be damaged by freezing and thawing.
5) Consider some extras
Here are some extras to consider adding to your outdoor kitchen for extra comfort:
The sink is an investment that is well worth it in terms of convenience and cleanliness if it allows you to wash your hands and vegetables without having to lug them inside.
Instead of dealing with the hassle of a propane tank or running out of fuel in the middle of a cookout, a dedicated gas line can be run from the house if natural gas is available.
Side dishes would benefit greatly from the additional stovetop space. Make sure there's enough room for your pots if you're using one of the grills that comes with one.
A stainless steel under-counter refrigerator keeps beverages and food items cold and within easy reach of the cooking area.
6) Roofing/coverage
Pergola
Pavilions made from cedar or pressure-treated wood cost between $5 and $15 per square foot. Slatted or lattice roofs provide air flow, but when you need complete privacy, transparent acrylic or galvanized metal will do the trick.
Awning
An awning, starting at around $500 for a manually operated 8-foot-wide model, is an easy-to-install solution for an existing outdoor kitchen.
Umbrella
Cantilever designs are the most functional and versatile for a portable kitchen, and you can get one for $200-$300. If your kitchen is built in, you may want to drill a hole in the counter top for the umbrella post to fit through.
7) Plan the dining arrangement
Family Meetings: When hosting a family dinner, a 96-inch table is perfect for seating six to eight people comfortably. Ideally, there should be at least 42 inches of clearance behind seated guests to push chairs back and move around the table.
Dates: An intimate dining experience can be created with a bistro set for two, which is both lightweight and compact, while a 42-inch round or square table will accommodate four people with plenty of room to spare.
Hosting a group of friends: Outdoor gatherings center around the grill, just as indoor get-togethers do the kitchen. Provide them with a place to rest their weary heads and steer them away from the kitchen by installing a freestanding pub table and stools. Add a breakfast-bar style overhang of 15 inches deep for a 36-inch high counter, or 12 inches deep for a 42-inch one, to built-in kitchens with peninsulas or grill islands to provide adequate knee room.
8) Pick lighting
Ensure that your kitchen and work spaces have adequate task lighting, such as a clip-on grill light or a floor lamp. The mood can be set with the help of rechargeable LED tea lights or all-weather string lights placed near the seating areas. For added security, think about installing riser lights for your deck's stairs, a lantern over the front door, and spots or solar-powered stakes along the path to your outdoor kitchen.
9) Plan for winter
It's possible you'll have to close up shop for the season if temperatures drop below freezing. 
Do the below to winterize your outdoor kitchen:
It's time to wipe down the grill and put the lid back on.

The refrigerator and any other appliances must be turned off and unplugged.

If there is still water in the pipes, turn off the water supply and flush them. (A gravity-based winterization system installed by a licensed plumber will make this process much simpler; otherwise, you'll need to use a pump to remove the water.)