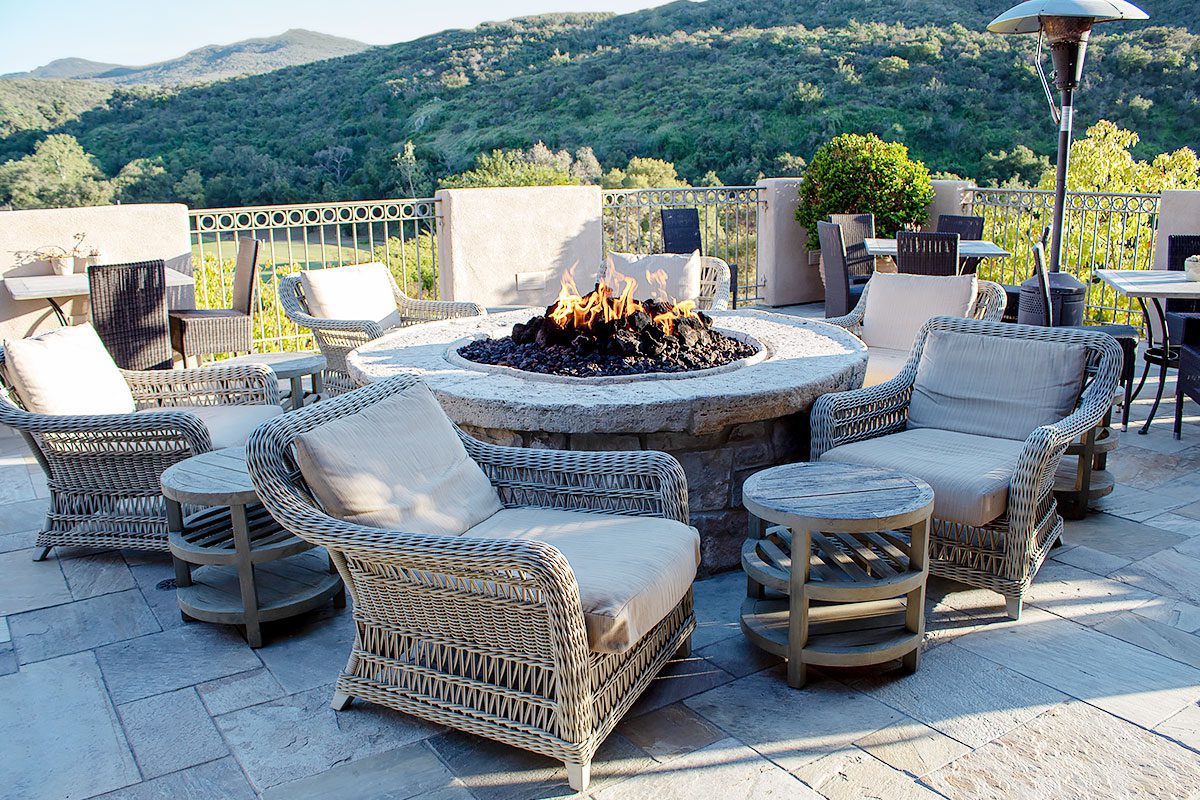 Installing a brand-new fire table is exciting and creates a new focal point in your outdoor living space. With that in mind, it is important to take the proper considerations to pick out the right one for you.
Nothing is worse than buying a cheap, faulty fire table just to have it break weeks after installation. The disposing fee will likely cost as much as the table itself. Many questions come with purchasing fire tables – our Gas Guys team has crafted a great list of all you need to know before a fire table so you can find the right one for you.
What Is a Fire Table?
Fire tables are one of the best ways of adding some ambience to your backyard. A gas fire pit or table is a propane or natural gas fuelled fire table that offers your living space a new useful piece used for lounging, warming up and relaxing. Fire tables are best enjoyed under a nice terrace or bungalow in an evening setting and it is a great utility used to gather friends and family around. Fire tables will often have a base and top design – side plug, the Gas Guys are capable of creating your fire table to your own perfect liking, to any specifications you desire. From site measurement, to installation, and set up, our certified contractors are the best in the Greater Vancouver area.
Safety And Installation
Safety is often the most frequently asked about subject when it comes to fire tables, and we are here to answer all your questions. The Gas Guys take great pride in our safety procedures and techniques used to craft our elite fire tables. Using quality parts and materials is a no-brainer for any Gas Guys project, and so is building them to the highest possible quality.
Did you know that a gas fire pit offers more safety features than a traditional wood-burning one? Our premium fire tables come with convenience in easy-use knobs to adjust flame levels, coupled with smoke-free design, sleek, realistic flames and no lingering smoke smell. Regardless where you're getting your fire table from, these are all important features to look for when in the market for one.
Best Quality And Visually Appealing
While fire tables range in prices depending on the features they come with, a quality fire pit table made from durable materials is often worth paying a smidge more. When purchasing a luxury furniture like this, it's often better to pay a premium for a trusted brand than to go for the bottom bin prices. A fire pit made from strong and durable materials will last no matter the season or unpredictable weather setting. That factor alone will save you time and money by not having to repeat the buying process every spring or fix up older tables. Not to mention, a strong, reliable gas fire table will require much less maintenance than other options.
What better way to enjoy the gradually warmer weather than hanging out with your loved ones around a fire table with a nice glass of wine? Worried about something not fitting, unsure of which amenities are required and/or best for you? If you have any questions or concerns at all, please Contact Us on our website or give us a call at 778-512-1000.