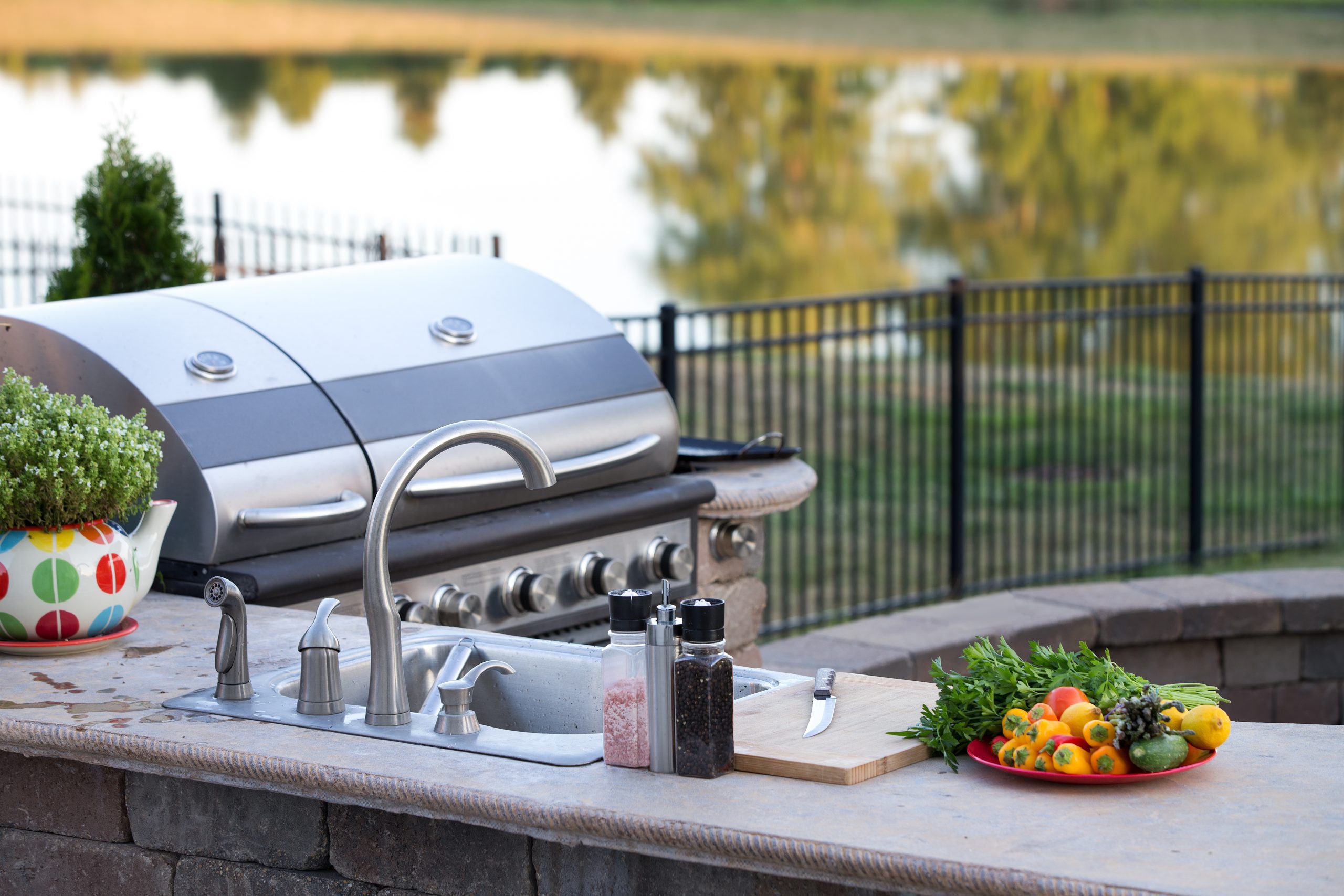 If you've been looking for the ultimate backyard design idea to help bring your outdoor living space to the next level, an outdoor kitchen might just be perfect for you!
Whether you're hosting your weekly family get-together or having some friends over for an afternoon happy hour, an outdoor kitchen is the ultimate way to bring your home entertainment game to the next level this summer – all while increasing the value of your home! With that being said, we understand how designing your dream outdoor kitchen may be a bit of an intimidating process for many homeowners. That's why we're here to help break down the basics of how an outdoor kitchen can transform your backyard into the ultimate outdoor living space you've been looking for this summer.
What Exactly Is An Outdoor Kitchen?
Contrary to belief, an outdoor kitchen is so much more than just a glorified area to grill your hotdogs! Whether it be on your patio, in your backyard, or even on a rooftop, we often describe outdoor kitchens as the "heart" of outdoor living spaces because of their unique ability to bring people together. 
With limitless customization options available to suit your unique design ideas, an outdoor kitchen is an absolute must-have if you're looking to maximize the potential of your backyard space. With their rapid increase in popularity, here are a couple of the benefits that cause homeowners to fall in love with their outdoor kitchen spaces:
Unparalleled cooking convenience (homeowners often tell us they can't even believe they used to run back and forth between their indoor kitchen and outdoor space!)

Ultimate entertainment area for everything from game nights to family dinners

Grease-free and odourless indoors

Increased home value and backyard space functionality

Savings on utility bills, and more!
Whether you're working with limited space or have the whole nine yards of your backyard to design within, an outdoor kitchen is the added luxury you've been looking to bring to your backyard space for the summer.
Deciding On The Perfect Layout
When you work with an outdoor design specialist, such as The Gas Guys, you'll find that transforming the vision for your dream backyard into reality is far easier than you could have ever imagined! 
Outdoor kitchens are customizable in many different sizes, shapes, and styles. Common layouts typically adopt an L, U, or G shape with storage cabinets and appliances spaced out to create a natural and ergonomic cooking area. That being said, when you work with a design specialist, the layout of your outdoor kitchen is only limited to your imagination!
There's No Such Thing As A "One-Size-Fits-All" Design
Outdoor kitchens and patio designs are unique to each and every outdoor living space!
Homeowners with smaller backyard spaces often toss the idea of an outdoor kitchen out the window. However, with the countless design possibilities and layout options available, outdoor kitchens are easily adaptable to any patio design and idea you might have in mind. 
Depending on the style and aesthetic you're planning for your outdoor kitchen to embody, the myriad of material options available help ensure your kitchen space is suited for every season and type of weather apart from just summer. Material options include wood, stainless steel, concrete, aluminum, and even plastic — each with its own benefits to best cater to your unique geographical climate.
It's Time To Create Your Dream Outdoor Kitchen
Now that you know how an outdoor kitchen can help transform your backyard space into the ultimate hub for summer entertainment, it's time to get started on building your own outdoor kitchen! 
For more outdoor design ideas to help get you started, be sure to check out our other articles for the best outdoor living design tips and advice to take advantage of your backyard this summer!