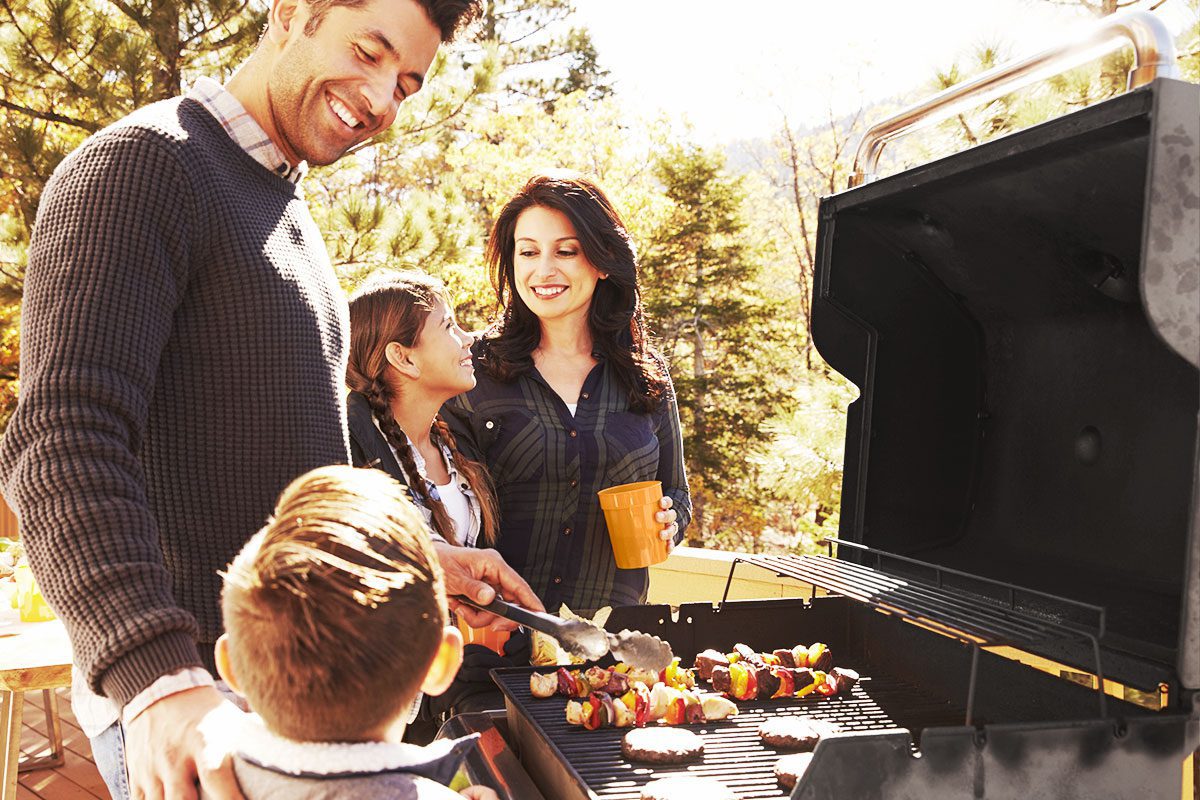 So what if it's a bit cooler outside?
Yeah, sure, the days might be a little shorter and the fall leaves that cover the ground may be a little annoying at times, but DO NOT let anyone tell you that your outdoor living season is over!
While cooler breezes and rainier days accompany the Fall season, that does not mean it's time to winterize your outdoor living space just yet. There's no better time of the year than Autumn to cozy up under the stars beside the warmth of your fire pit and to entertain your guest over a Fall dinner with your outdoor kitchen. If you're unsure about just how you can fully utilize and maximize your outdoor living space experience this Fall season, we've prepared some of our favourite tips and advice just for you!
Your Grilling Season Is Not Limited To Summer!
While it might seem like barbequing steaks and skewers is exclusive to the warmer seasons, it's important to remember that the only person who can put an end on your grilling season is you! With your outdoor kitchen, you're never limited to what you can cook outside.
Various cooking websites and chefs have released their favourite Fall season grill recipes online. For some amazing food ideas and inspiration for your next gathering, we recommend the Fall season Grilling recipes list from Bon Appetit. One of our personal favourites is their mouthwatering "Spicy Grilled Cauliflower Steak" recipe. It is absolutely to die for and sure to leave your guests with the impression that there's no better host than you.
Just remember, depending on where you live, be sure that all appropriate weather protective equipment and covers are on stand-by for those wetter days. For more tips on how you can best protect your outdoor kitchen during the fall season, be sure to check out our other blog posts!
Bonus Tip!
If your outdoor kitchen is equipped with a pizza oven, you have to try this unquestionably delicious apple pizza pie recipe. You won't regret it!
Set The Atmosphere For The Autumn Season!
Nothing sets the Autumn mood like an outdoor living space decked out with Fall season decorations! Simple additions, such as Autumn themed outdoor wreaths from Amazon can really make all the difference in setting the atmosphere for the Fall season.
With Halloween just around the corner, there's no better time to spark up your tiki lights to illuminate the cool Fall night! Better yet, take it one step further and accompany them with some real jack-o-lanterns, or alternatively, some outdoor Halloween pumpkin fairy lights! If you decide on the latter, we recommend hanging them up around your outdoor kitchen to really set that "spooky" Halloween ambience.
The possibilities truly are endless and the use of your outdoor living space is only limited to your imagination; so don't let anyone tell you it's time to pack it up! We wish you all the best this Autumn season!
For more outdoor design tips and advice from The Gas Guys, be sure to check out our other posts.