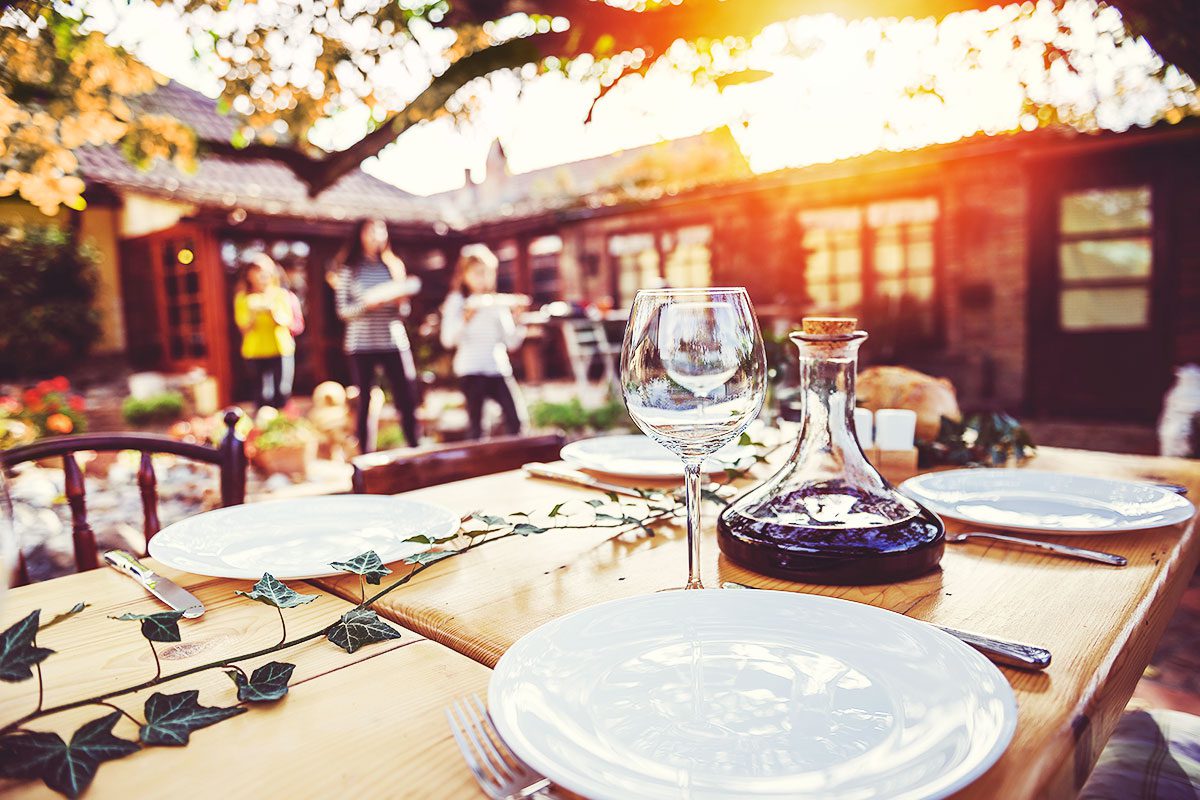 There's something truly nostalgic about sitting under the starry night sky beside a fire pit, all bundled up in your sweatpants and sweater with the nippy Autumn breeze blowing over you. It truly is the perfect way to end a warm Fall evening spent cooking outside in the company of family and friends.
While the beauty of the Fall grilling season can make it easy to forget about the worries of tomorrow, it's important for you to ensure that your outdoor living space is well equipped to take on the Autumn season.
Whether you're preparing an existing space or currently designing your dream outdoor kitchen, here are the top 3 Fall season tips to consider for the protection and design of your outdoor living space.
1. Prepare Your Outdoor Kitchen for Mother Nature
It's easy to neglect the need to protect your outdoor kitchen space from the weather, especially when the summer season requires virtually zero maintenance and sheltering from any sort of drastic weather changes. But for the Fall season, it's important that you ensure your outdoor kitchen space is well equipped for all that Autumn has to offer.
If you are preparing an existing outdoor living space, make sure that you have all the necessary cleaning and maintenance supplies. This may include any cleaning products for your grills and outdoor appliances, designed to remove the leftover summer grime and protect your space from the dirt, dust, and rain that accompanies the Fall season.
If you're currently in the works of designing your dream outdoor kitchen, you'll want to make sure that your appliances are installed in covered areas. This is to maximize their lifespan and avoid any sort of possible damage. Moreover, if you're unsure about which building material is best for you, be sure to check out our other posts for more information on which material is right for your custom outdoor kitchen.
2. Make Sure Everything is Properly Stored!
While it might have been easy to keep things lying around during Summer, the Autumn season brings along much more moisture and dirt that can affect, not just your cooking equipment, but subsequently, your health from bacterial growth due to improper storage. The transition between seasons provides the perfect time for a deep-clean or replacement of cooking equipment and utensils. Once you're done that, make sure that everything is securely fastened away and that any necessary weather resistant covers are on hand.
For outdoor spaces currently in design, you'll want to make sure that you've provided adequate storage space for your Fall cooking equipment and supplies, while making sure everything is easily accessible and within an arm's reach for the ultimate outdoor cooking convenience.
3. Get Your Fire Pit Ready!
Nothing tops off a Fall season cookout like warming up around the magical glow of a Fire Pit. But before you light up the Autumn night, make sure you clean out any ash, debris, and old wood left over from the Summer bonfires and marshmallows. To ensure the longevity and protection of your fire pit, be sure that your properly fitting fire pit covers are on stand-by.
A Fire Pit is the ultimate addition to your backyard space and an absolute must for this Fall. If you're still unsure about which fire pit will best suit your outdoor living space, be sure to check out our other posts for more information on which fire pit is the right one for you!