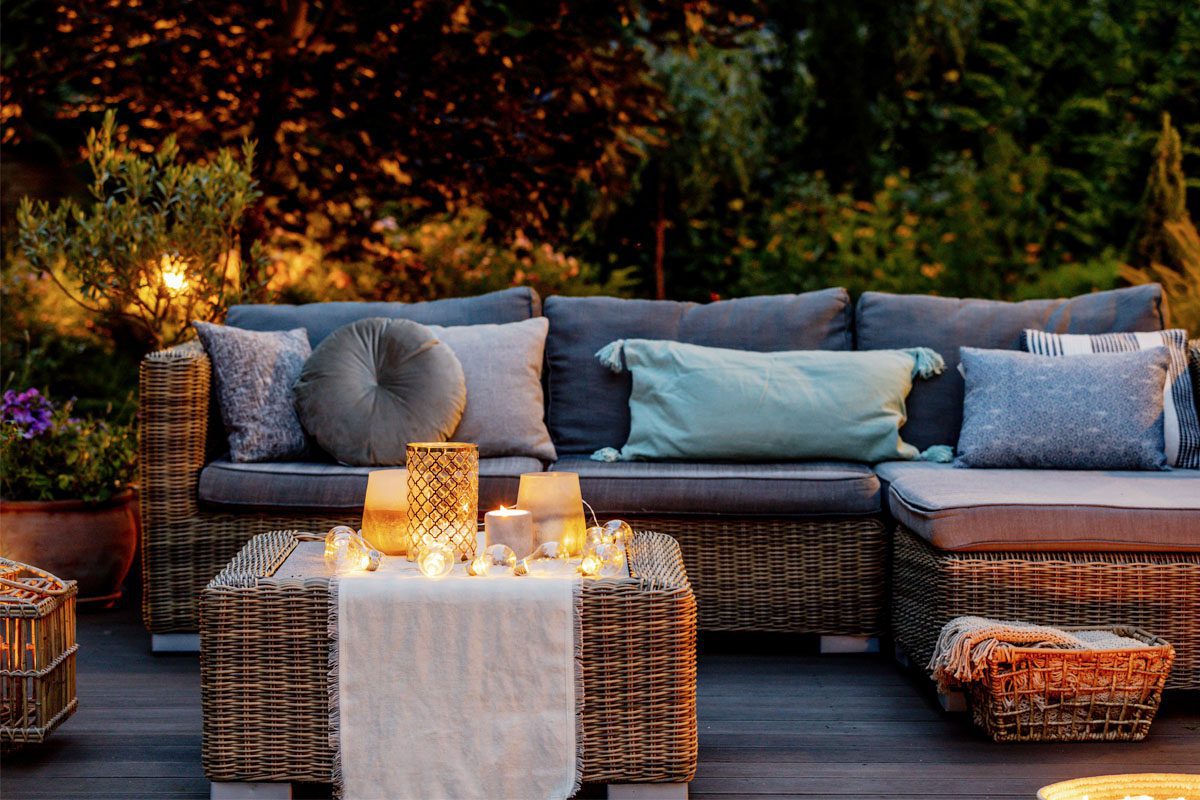 While the public patio season across Canada has been temporarily delayed, that doesn't mean outdoor dining has disappeared altogether! Your backyard is prime real estate for all outdoor festivities, and with spring temperatures on the rise and the summer heat in near sight, it's time you begin transforming your space into the ultimate outdoor living area for patio season!
If you love the outdoor patio season and can no longer bear the absolute nothingness that your backyard currently is, then maybe it's time to consider transforming that space into an area you can be proud of! With a growing number of people spending more time at home, especially in light of stay-at-home orders, homeowners around the world have started recreating patio season right in their backyards — so why aren't you?
Whether you're looking for backyard design tips or hoping to reinvent an existing space altogether, here's an overview of our top steps to begin your outdoor living design process, so you can begin transforming your backyard into a patio season paradise.
How To Begin Designing An Outdoor Living Space
Whether it's to compliment your pool, accommodate your patio season needs, or simply to provide you with a relaxing area to enjoy the spring weather, you know you want an outdoor living space for all your outdoor needs…but now what? 
If you're not entirely sure about where and how you're supposed to begin designing an outdoor living space, here are some of the best tips we can offer you:
Do Your Homework
Despite how intuitive designing an outdoor living space might be, to ensure your backyard doesn't just capture your unique style and personality, but is also functional and able to withstand all outdoor elements, we recommend you do some research into what you truly want! Afterall, you're the one spending the time and money to create a backyard paradise, and the last thing you'd want is for your efforts to be a bust! 
Try speaking to friends who have outdoor living spaces, take note of your favourite design ideas, or even check out a design catalogue from the library, just try to make sure you know exactly what you want.
Explore The Internet
There's no doubt one of the best sources for inspiration is the internet! With millions of different design ideas just a few clicks away, some virtual inspiration might just be what you're looking for. Some of our favourite sources include Pinterest for some quick stylistic idealis, as well as various online design blogs from people that started exactly where you are! 
Consult Backyard Specialist!
Whether you've collected an assortment of design ideas from the internet or know exactly what you want, one of the best ways to ensure your backyard vision comes to life is to consult a outdoor living design specialist!
Industry specialists, such as the Gas Guys, are experienced in everything it takes to create exactly what you have in mind. Not only will a specialist guide you through the overall development process (such as gas line and appliance installations, design recommendations unique to your backyard, and more), but they're expertise and familiarity will often help you save time and money spent on wasted efforts.
Ready To Enjoy The Sun?
A true outdoor living space should emulate a second living room — a place you'd want to relax at any given moment. And with these design process tips and advice, we hope we've placed you one step closer to enjoying your backyard patio season!
For more outdoor living design tips and advice from the Gas Guys, be sure to check out our other articles.