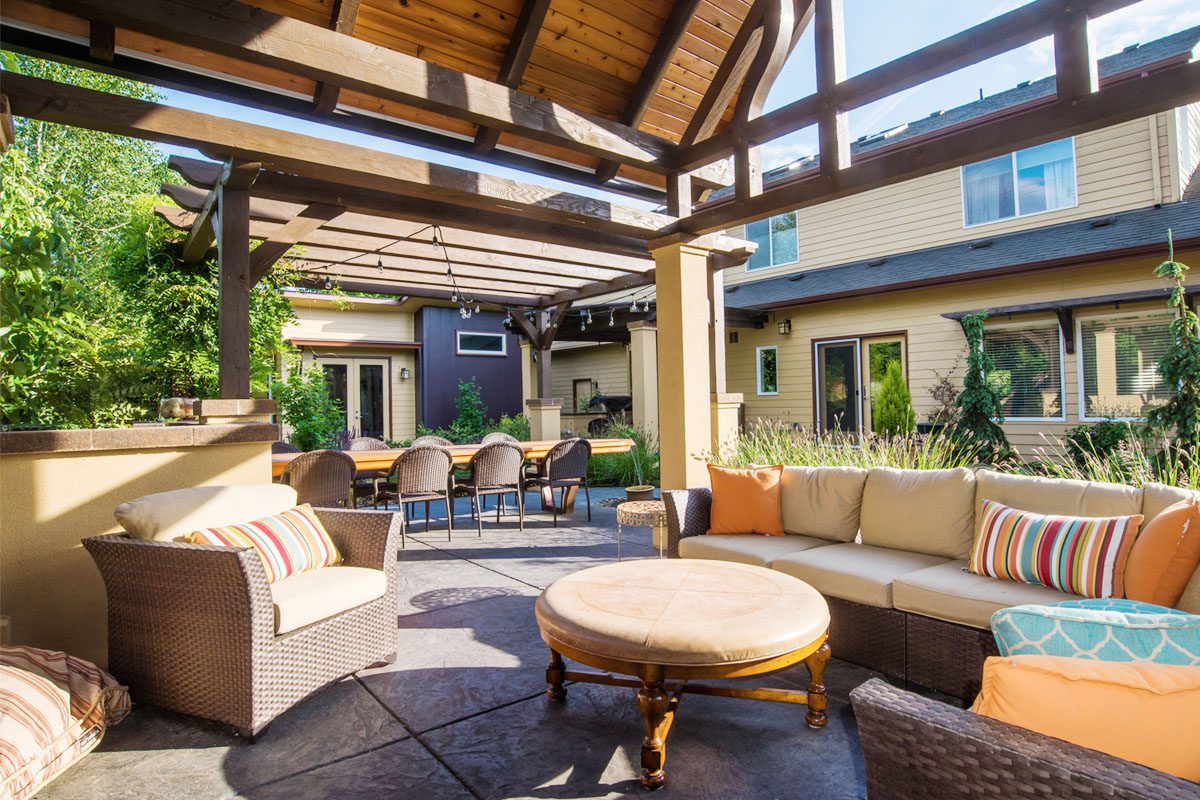 Spending time outdoors is essential to leading a healthy lifestyle. With more hours of sunlight and warmer temperatures, outdoor living spaces make for the perfect excuse to get out of the house.
Spring marks the beginning of the entertainment season, and with outdoor grilling season and family barbecues now in sight, we want to make sure your backyard is equipped with some of the trendiest outdoor living designs.
Whether you're revitalizing an existing outdoor living space or currently in the process of designing your dream backyard, we've got you covered with 5 of our top outdoor living design ideas for endless entertainment this spring!
1) Outdoor Kitchen
Outdoor kitchens are the be-all and end-all of outdoor living must-haves for spring entertainment! Outdoor kitchens are often considered the heart of backyard spaces, as people tend to naturally gravitate towards them as spring and summer barbecues kick-off. 
With endless customization options, such as the addition of an outdoor pizza oven or outdoor BBQs, outdoor kitchens are an entertainment essential if you're hoping to leave a lasting impression on your guest!
2) Outdoor Furniture 
You should consider your outdoor patio or seating area to be an extension of your living room — a place where you're able to sit back and relax with friends and family, regardless of the time of day or night. 
However, the tricky part is actually picking out the right outdoor furniture that suits your outdoor living needs. The perfect outdoor furniture sets accommodate the balance between functionality and style. Your furniture selection should be capable of handling all that mother nature may throw your way (rain, sun, etc.), but also compliment the rest of your outdoor living space, while elevating your backyard into an area you'll actually want to spend time in.
For more tips on the latest outdoor furniture trends, we recommend you check out The Zoe Report to ensure your backyard is equipped with today's most fashionable patio furniture. If anything catches your eye, our team is more than capable of helping you source and install any furniture for an irresistible price!
3) Fire Tables
Fire tables are the perfect addition to any outdoor patio or seating area, and pairs perfectly with any outdoor furniture set.
There's truly no better way to wrap up a gathering full of food and laughter than all cozied up around a fire table, or even an outdoor fire pit. These outdoor living accessories make for the perfect area to gather up the kids to roast s'mores under the stars, or to nurse a glass of wine over a late-night conversation. 
4) Backyard Walkway Lighting
The proper use of backyard lighting can transform your backyard space into a true social hub for outdoor entertainment at night. With affordable options, including all-weather and solar-powered pathway lights, backyard lighting allows you to extend your backyard entertaining deep into the night. 
Many homeowners typically opt for more elegant and stylish options, such as a patio heater or natural gas tiki torches to light up your walkways. These alternatives are often higher in quality and add to the overall aesthetic of your outdoor living space, when compared to lower-quality pathway lights.
For more outdoor living design tips and advice from The Gas Guys, be sure to check out our other articles.