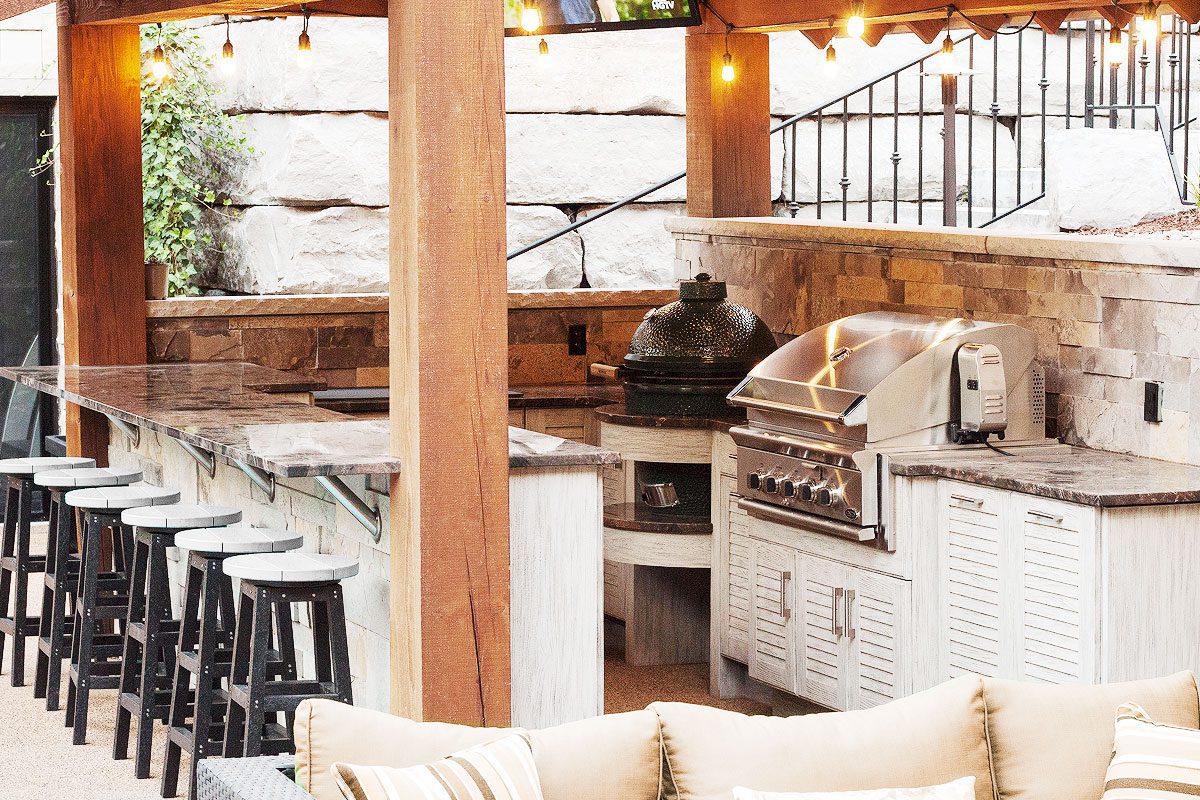 Fall marks a time of the year where shorts transition to trousers, leaves turn a beautiful orange, and days become shorter without noticing. It's the time of many holidays and gatherings, where we connect and socialize with friends and family. As a host, there is no doubt you'll want to make the most of your outdoor space to amuse your guests. The Fall season is the perfect time of year to add some new equipment to your backyard if you're looking to entertain.
While having guests over, you might be interested in preparing fine meals and making a strong impression. In some cases, you may already have a grill for outdoor cooking. But what about the food you're grilling? If it's coming all the way from your indoor kitchen to your outdoor dining area, it's both a hassle and an extra trip. An outdoor kitchen allows you to prepare food stress-free without having to run around your entire house. In this blog, you can read up on why a brand new outdoor kitchen could be best for you this Fall 2020 season.
The Luxury of Owning an Outdoor Kitchen
Creating a brand new outdoor kitchen is a wonderful experience. After all, it means you have more viable space to enjoy the cool Fall weather. This season introduces many holidays such as  Thanksgiving, and Halloween. These are examples of occasions where families and friends link up and spend together. If you're a host in these scenarios, you may want to impress your guests with a luxurious centrepiece in your spacious yard. Having an outdoor kitchen allows you to remain outside while cooking without having to leave your guests.
Fall offers some of the last few clear nights to enjoy outside. Grilling up steaks and veggies with leaves tumbling is criminally underrated and under-appreciated, and that's coming from our Gas Guys team. The scent of charcoal and grilled food within a chilly atmosphere is sure to raise eyebrows and increase the hunger of your guests.
Benefits Of A New Outdoor Kitchen
Increased Home Value
Installing a brand new outdoor kitchen could help your property value climb, for when and if you decide to sell your home. An outdoor kitchen could also help your house stand out with a feature not found in most of your neighbours homes. When it comes time to sell your home, you will likely be more than pleased with the outdoor kitchen you previously installed.
Increased Convenience
An outdoor kitchen makes it much easier to enjoy outdoor gatherings that involve food and drinks. As a host, you won't find yourself constantly running back and forth to the house during barbecues or parties, neither will your guests. With a new outdoor kitchen, you'll have the option to store, prepare, cook, and serve your food all in the same space.
Cleaner Indoor Kitchen
Even if you're an enthusiastic cook, the idea of using your oven on a scorching summer's day can be enough to make you entirely scrap your gourmet dinner plans. With that said, an outdoor kitchen won't have you overheating in your home to cook up a simple meal. Instead, you can fire up the grill and enjoy the open air and breeze as you prepare quality foods. Once you're finished, you can return to a nice, cool home and mess-free kitchen.
Conclusion
When you cook a big meal indoors, certain smells tend to linger. No matter how you try to vent it, they can absorb into the walls and remain stuck for days. With an outdoor kitchen however, neither the heat nor the smell sticks around. This means you're free to grill the most luxurious premium steaks and juiciest chicken breast imaginable. Fall is the best time of the year to enjoy your outdoor living space and craft amazing home-made meals.
After reading about why an outdoor kitchen is ideal for this upcoming Fall season, don't hesitate to start planning your space out. If you need any assistance with maintaining or creating your outdoor kitchen, feel free to give us a call. The Gas Guys is a South Surrey based outdoor living studio specializing in custom outdoor kitchen designs and installed. We have had over 20 years of experience working with outdoor kitchens and can cater you to your every need!