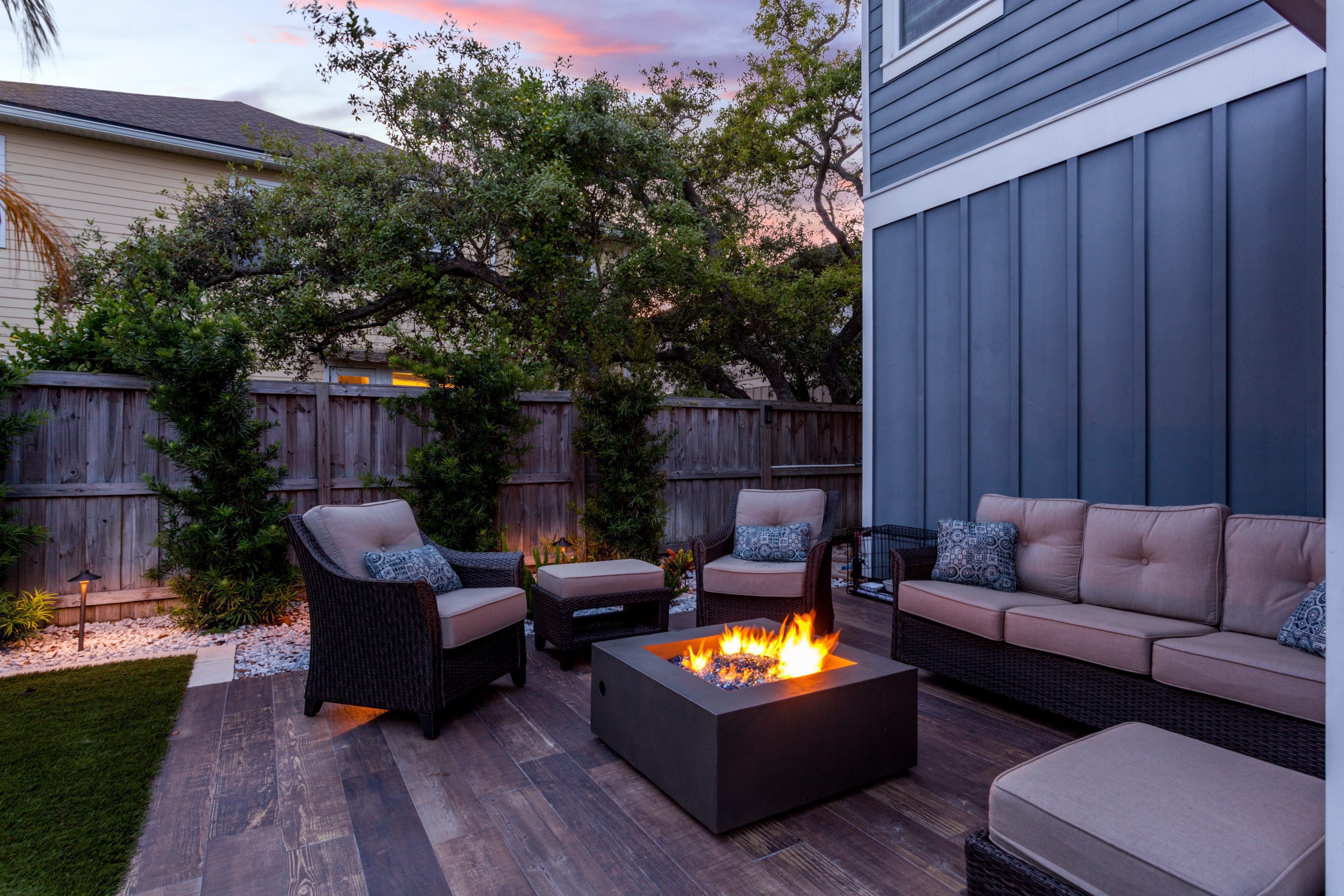 No matter the size of your backyard, with the proper design ideas, even the scruffiest of outdoor spaces can be transformed into a backyard paradise! And that's exactly what an outdoor living space should be – a simple, convenient, and relaxing way for you to forget about your worries of today and escape to paradise, all in the luxury and comfort of your own backyard. 
Finding the right design ideas can be a mentally taxing process, especially since the possibilities for your outdoor living space are limitless. So to help you design the comfiest backyard space possible, we've gathered some of our favourite outdoor design ideas for those on a hunt for absolute relaxation this summer!
How To Create A Warm & Welcoming Backyard
One of the best ways to create a relaxing atmosphere is by adding "warming" features to your outdoor living space. This could be in the form of ensuring your backyard is properly lit with the right outdoor lighting options, or with the addition of actual backyard heating elements! Here are some of our favourite ways to "warm" up your outdoor living space this summer:
Outdoor Fire Pits
There's something magical about late-night summer s'mores and bonfire stories by the fire pit. Fire pits don't only allow you to continue entertaining your guests long after the sun goes down, but they create an irreplicable summer atmosphere. The sheer coziness and warmth of bundling up beside the fire make fire pits an outdoor living essential for those looking for the ultimate summer vibes!
---

Fire Tables

If a fire pit isn't exactly your thing, but you're still looking for that "summer campfire" atmosphere, you may want to consider a fire table! Fire tables are perfect for those looking to ensure their outdoor living space maintains absolute coziness while offering an added touch of luxury and elegance. 
Fire tables come in a variety of styles and designs, so you'll be sure to find something that perfectly complements the style of your backyard design. If you're not too certain on which fire table would be for your outdoor living space, be sure to check out our article on how to pick the right fire table for you.
---

Patio Heaters & Natural Gas Tiki Torches
While fire pits work to elevate every patio set, they're not exactly something you would have alone — you wouldn't just place a fire table in the middle of your backyard! In this way, both patio heaters and natural gas tiki torches offer the same amazing benefits, but in a more "independent" way… allow us to explain. 
Both patio heaters and tiki torches offer the elegance and functionality of a fire pit. However, they're unique in the way they help supplement your outdoor living space. A fire table thrives off of a great patio set and stellar conversations, whereas patio heaters and tiki torches offer much more versatility in how you choose to use them to elevate your backyard. 
For instance, you might choose to have your tiki torches around a pathway to welcome your guests or around your outdoor kitchen. Moreover, you might have your patio heaters situated around your patio set or around your hot tub — or even both! Regardless of how you decide to implement these outdoor living essentials, you can't go wrong.
Make The Most Of Your Summer!
Outdoor living spaces are meant to be a space for entertainment, memories, and refuge — a space to kick back, unwind, and just have fun. The versatility of design ideas for outdoor living spaces is truly what makes them so amazing. 
With that being said, something people often forget when contemplating the millions of design possibilities is that their unique vision is what makes their outdoor living space, well, theirs! So matter how you choose to design your backyard space, we're sure it'll be amazing!
For more outdoor design tips and advice from The Gas Guys, be sure to check out our other articles.